Andrea Micheli, our Commercial Director, reflects on the challenges and successes on offer in the sailing industry in an interview with Jack Hogan, Operations Editor & Analyst at "The Superyacht Group".
"The key to our success is that we found our sweet spot in between (custom and production). Our challenge, and also our success is that we try to educate our clients to accept some common ground in the design platform"

"We might be seen as conservative from some of our competitors, but actually, we like to say that we are sustainable, reliable and consistent with our basic mission. So we don't try to shoot for the Moon to get to the sky. We shoot for the sky."
The current status of sailing yacht deliveries is fairly easy to over-simplify. As can be seen from the below graph supplied by The Superyacht Agency, 30m-plus sailing yacht deliveries have seen a significant decline since 2006, with the output more than halved after 2014. The halcyon days of the early 2000s now seem a distant memory, the factors that contributed are manifold and will be examined, in more detail, along with the sailing yacht fleet forecast in the upcoming Superyacht New Build Report.
Arguably the most consistent yard over this period has been Southern Wind. For comparison, below are the 30m+ deliveries from Southern Wind over the same period. As can be seen, there have been some fluctuations, but the consistency is plain to see. In a preview of our full sailing yacht market analysis, SuperyachtNews speaks with Andrea Micheli, commercial director at Southern Wind.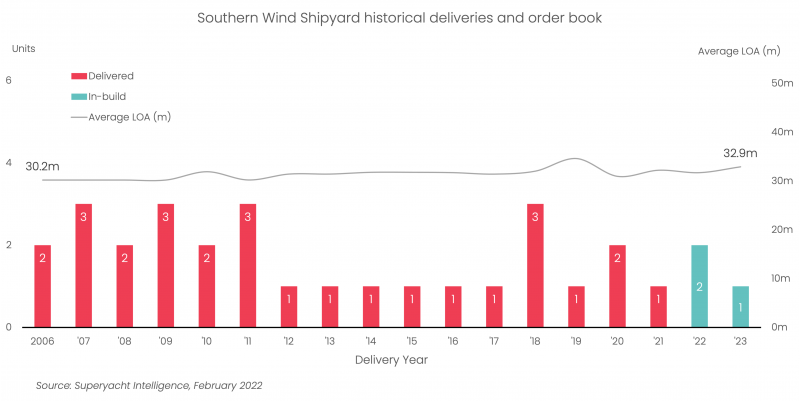 Due to its utilisation of a semi-custom and production output, direct comparisons between Southern Wind and fully custom yards are somewhat limited. However, there is something to be said for perseverance through a turbulent time in the market, and to this point is where we begin. "I think the reason why we maintain this delivery output is that consistency is one of our main goals," starts Micheli, "consistency on the production floor and by optimizing the processes is how….
Services
Charter
A charter with a Southern Wind allows you to live an ultimate cruising experience. Discover our Charter fleet.
Brokerage
Our Brokerage team has been responsible for most of the purchases of SWS yachts for sale. Browse our Brokerage fleet.
Customer Care
Owning a Southern Wind is an effortless pleasure, made even easier by the high standards of our Customer Care service.
Yacht Management
Our Yacht Management team aims at easing Owners and Captains management of their vessel, both private or commercial.